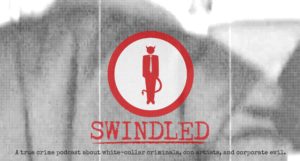 As the long days of summer disappear, your commute seems just a little longer in the dark, and the mood shifts toward home-body, I'll suggest adding some white-collar crime podcasts to your listening habits.
If you aren't a podcast listener, maybe these will convert you into one. There are podcasts out there that are every bit as excellent and binge-worthy as those Netflix or HBO series you are streaming. Only difference is this story-telling obsession is one you can indulge in while doing other things.
These five white-collar centric podcasts are pretty fascinating looks behind the headlines of some of the most infamous crimes of our times. Listen in.
Swindled
I've suggested this one before as a "true crime" podcast, but Swindled doesn't focus on murder, mayhem or cults like most others. The anonymous host, A Concerned Citizen, uses historical footage, narratives and immersive sounds to cover Ponzi schemes, con artists, corporate greed and corruption, bribes, and spectacular fraud cases. The end goal of all these crimes is always money.
Each episode is extensively researched, and the Swindled website gives an exhaustive list of sources for each one. Recent crime episodes include an Israeli playboy who posed as a wealthy CEO and scammed women on Tinder out of hundreds of thousands of dollars; the largest lottery fraud in American history; and the Valeant pharma scandal that surfaced price gouging, a secret network of specialty pharmacies, and fraud.
See the Swindled website here, and subscribe at Apple iTunes, or Stitcher.
Ponzi Supernova
The Financial Times calls the Ponzi Supernova podcast "electrifying."
While the Bernie Madoff $65 billion Ponzi scheme may be old news, this podcast is drawn from hours of conversations with Madoff himself from prison. Reporter Steve Fishman asks Madoff how he did it, why, and how a "ragtag team with 30-year old technology managed to fool auditors and the United States government."
Madoff, the former chairman of the Nasdaq Stock Exchange was not caught, but confessed his scheme to his sons. There are just six episodes, each one about 30 minutes long, but each dives deep into the fraud, money laundering, perjury and theft that lead to a sentence of 150 years in prison for Madoff.
The series is the result of over nine years of work by Fishman; his extensive research; and interviews with Madoff's ex-colleagues, fellow inmates, and with law enforcement, all of whom serve as the supporting cast.
Find the podcast here at Apple iTunes and at Stitcher here.
This is Real
I'll bet this one is a surprise – mostly because of the unexpected source of the production – the U.S. Department of Health and Human Services Officer of Inspector General.
In 2014, more than 30 people were arrested on charges of health care fraud. Among the arrested are owners and operators of home health care agencies, personal care assistants, patient recruiters and office workers. Millions of dollars were seized at the time, and the case remains the biggest health care fraud bust in Washington, D.C. history.
This series follows HHS OIG special agents as they cover the complex fraud schemes, including going undercover as a homeless person to infiltrate the Medicaid fraud scheme. This series is just five episodes, each one running only about 15 minutes.
Find the podcast and written transcripts at the HHS website.
American Greed
CNBC bills this podcast as "the amazing real-life stories of how some people will do anything for money." Stacey Keach narrates each deep-dive story that range from L.A.'s "Doctor Feelgood" who wrote more than 27,000 prescriptions in three years for opioids; to Internet hotshots who conned more than 1 million people out of $1.7 billion with their work-from-home pyramid scheme. You can also tune in here to the real-life version of the Wolf of Wallstreet, and a wild west Badlands oil boom hitman.
Listen to American Greed at ITunes, CNBC.com, Spotify or your favorite podcast app.
Popping the White Collar
This is a new podcast with weekly episodes, the first of which was released on August 6, 2019, – so you will be able to easily catch up. Each episode details a well-known white-collar crime, but this one doesn't just lay out the crime itself, it also gives listeners tips on how to avoid similar crimes and scams.
The hosts both have a military background and have civilian life experience in finance, computer gaming, cyptocurrency, and cybersecurity. They say their experiences play a major role in sparking their interest in this podcasting venture to explore white-collar crime cases.
You can listen to Popping the White Collar at ITunes and Stitcher.  And, check out the website for more information.
David A. Stein is a distinguished criminal defense attorney and trial lawyer.  He has an track record of successfully defending violent crime cases, often getting charges dismissed or winning acquittals after jury trial.  Contact our law offices today at (949) 445-0040 for a no-cost consultation.