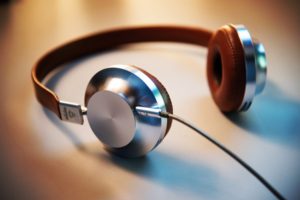 This post is a little summer sidebar.
If you've spent your spare time reading every book you can about mysteries, murders, messed-up investigations or mayhem, perhaps it's time to look to a podcast or two so you can multitask while you are indulging in your crime story passion.
Crime podcasts have exploded wherever you listen since the infamous Serial, the serialized edge-of-your-seat, whose-not-listening-to-it podcast that holds the world record of some 175 million downloads along with a Peabody Award.
If you didn't get hooked on the genre with Serial, there is definitely something in podcastland for everyone who wants to indulge in exploring the dark side. Crime podcasts come in all flavors: episodic, serialized, cold cases, thematic, or even historical.
Perhaps one of these five podast will tempt you away from the page-turners and into earbuds while you while away the summer or your lunch hour. Listener discretion is advised.
Wine & Crime
"Welcome to Wine & Crime, where three friends chug wine, chat true crime, and unleash their worst Minnesotan accents."
Wine & Crime is true crime coupled with roundtable comedy.
It's funny, somewhat raucous, and starts with a choice of wine specially pared for the disturbing theme of the day. What follows is a lighthearted but straightforward discussion of terrifying topics, like cyberstalking, brute strength murders, biologic agents, and psychopaths & sociopaths. After you are armed with the background info you'll need on the topic, the three women hosts dive into three stories of real crimes, presented by one of the trio who brings their own flair to the theme.
A bit irreverent, but respectful and intelligent, the podcast uses humor to cope with some terrible and terrifying things that happen in the world. Amanda, Kenyon and Lucy also manage to tackle in a fresh way social justice topics that should get more play.
It's a 5-star on iTunes. You can also find it on Stitcher and SoundCloud
Unsolved Murders: True Crime Stories
"Podcast drama with a modern twist on old time radio that delves into the mystery of true cold cases and unsolved murders. With the help of an ensemble cast, hosts take you on an entertaining journey through the crime scene, the investigation and attempt to solve the case."
Unsolved Murders podcast comes to you from a father-son duo in a theater-of-the-mind format. They do their research to get down the facts and the findings then create an "old world" style voice-actor show complete with traditional sound effects that take you on an adventure through the crime scenes and the attempts to solve each case.
While the old-school storytelling radio with over-the-top dramatization may not appeal to those who like their crimes reporter-style, it is fun and fascinating listening. It will appeal to horror and thriller fans, crime-junkies, or history buffs. A cold case usually spans several episodes so be sure to start listening with the first case episode.
Unsolved Murders is on Parcast Network, Stitcher and iTunes.
DarkNet Diaries
"Explore the dark side of the Internet with host Jack Rhysider as he takes you on a journey through the chilling world of privacy hacks, data breaches, and cyber crime. The masterful criminal hackers who dwell on the dark side show us just how vulnerable we all are."
Binge-worthy listening and no technology degree required. The production quality, writing, narration and research are all top-notch.
Each podcast goes into the backstory of hacks in the headlines and those you've never heard about. Unlike murder and mayhem that seem safely unlikely and distant, this one is spine-chilling because it reveals how vulnerable we are in everyday interactions with our tools and devices. Each crime story is big, intense and complex, but entertaining and engrossing.
You'll find stories of hackers, viruses, digital forensics, intelligence gathering, crypto-wars, gaming exploits, and digital defenders.
It is crime for our times.
You can find DarkNet Diaries at Stitcher, iTunes, iHeartRadio, or PocketCast.
Swindled
"A Concerned Citizen" recounts tales of real life, financially motivated crimes including embezzlements, frauds, con artists, Ponzi schemes, environmental disasters, corporate negligence, and more.
Some say it's better than Nexflix's Dirty Money. Hosted by the anonymous Concerned Citizen (which adds to its atmosphere) the podcast employs narrative storytelling, historical audio "footage" and immersive sound editing.
It is white-collar crime laid bare and it will pull you in. In the style of true crime with details galore, but about corruption, greed and backroom deals. The end goal is always money.
Swindled is fascinating, infuriating and unique. It is a good way to feed your true-crime bug without the horror. Its documentary style doesn't dumb down the topic, is respectful of the impact on people (and sometimes whole communities), but be warned, you could wind up finding yourself angry – and obsessed.
Find Swindled on iTunes, Stitcher or SoundCloud
In the Dark
"Reporter Madeleine Baran, devotes a newsroom's worth of time, energy, and resources to asking hard questions about justice in the United States" through the lens of a real life cold-crime case.
In the Dark is a production of American Public Media and holder of a Peabody Award. Each of its current two seasons centers on a single murder case. And while the series is about a murder, it is actually more about the systems of justice – their failings and what went wrong.
In season one, the episodes explore the case of 11 year-old Jacob Wetterling who was abducted as he was biking home with two friends, and that led to the creation of sex-offender registries. The second season centers on the case of Curtis Flowers who has been tried six times for the same crime.
The podcast episodes delve into police work, evidence-gathering; jury selection; and what it is like to be a victim, a suspect, or a witness; blunders; and the role of power and accountability – or lack thereof – in the process and outcomes.
If you liked Serial this is one you should get on your device or playlist today.
You can connect to In the Dark on Stitcher, and on iTunes.
David Stein is available to consult with you at no charge on any criminal matter. He is an experienced Orange County criminal attorney, working in all courts. Contact our law offices at (949) 445-0040 today. or contact us online here.