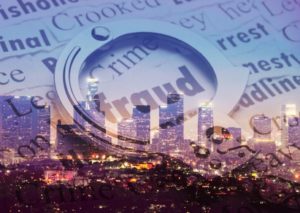 Credit card ring, a fake attorney, fire victim embezzlement, and food stamp fraud top the list of recent white-collar crimes cases in and around Orange County.
Restaurant credit card skimming in Huntington Beach
Federal authorities have in custody 12 of 13 suspects in a credit card fraud ring accused of stealing more than 500 credit card numbers, many which came from customers paying by credit card at a Huntington Beach restaurant.
According to the U.S. Attorney an employee of the restaurant allegedly used skimming devices to record and store the customers' credit card numbers. He then sold the skimming devices to the fraud ring. The stored card numbers were allegedly used by the suspects to create counterfeit credit cards from new cards (such as gift cards) and embossed with the names of the suspects.
There were simultaneous raids in seven cities including La Habra, La Mirada, Huntington Beach, Norwalk, Whittier, Bellflower, and Hesperia.
The federal investigation began more than two years ago when local authorities reported identity theft involving credit cards. The FBI, Drug Enforcement Administration, Secret Service and police departments in Los Angeles, Brea, and Huntington Beach were all involved in the investigation.
The indictment says suspects used the cards to buy big-ticket items at stores such Nordstrom, Apple and Toys "R" Us: Gucci and Prada handbags, jewelry, cameras, designer belts, video consoles, a wet suit and a stroller. Purchases were made in stores in Orange County and in Los Angeles and San Bernardino counties totaling more than $500,000.
All suspects have been charged with conspiracy to commit bank fraud. Most were also charged with counts of fraud transactions using credit cards, and aggravated identity theft.
Sober Living Home and Two Doctors Charged with Insurance Fraud
The owners of Orange County sober living facilities, along with their son and daughter and two doctors were arrested in Orange County for crimes allegedly tied to a $22 million urine test billing scheme. The investigation is focused on the facilities' owners, their medical testing lab, and two Newport Beach area doctors who are alleged to have written prescriptions for urine tests for employees of the facilities.
Prosecutors say the prescriptions for the drug testing the company submitted for employees and sober living residents were not rendered or were medically unnecessary, or were a type of "highly complex" urine test that the lab didn't have the ability to perform. The company also is accused of setting up a temporary staffing agency for the purpose of listing people as employees, some of which appear to have been sober living residents.
The six are charged with multiple counts of medical fraud, insurance fraud, money laundering, and conspiracy. They face individual sentences of 18 – 47 years, if convicted.
Attorney Impersonator Charged with Mortgage Modification Fraud
A Newport Beach resident, James Barker, is accused of posing as an attorney, soliciting clients by promising to consolidate their debts or reduce mortgage payments through loan modifications. He allegedly collected more than $45,000 in fees, but never attempted to negotiate debts or submit mortgage assistance applications on behalf of his clients and refused to refund the money. Investigators say Barker used several aliases and firm names to pose as an attorney.
Attorneys representing two of Barker's victims alerted the Orange County District Attorney's Office to the possible theft. Investigators could find no record of Barker being licensed by the State Bar of California.
Barker was arraigned on May 17th in Orange County on eight counts of money laundering, three counts of grand theft, aggravated white-collar crime over $100,00, and property damage or loss of $265,000.
San Clemente Insurance Embezzler Gets Seven Years
A San Clemente man was sentenced to seven years in prison for embezzling and stealing more than $400,000 from victims of a Los Angles fire. Jose Manual Villa solicited fire victims to sign contracts allowing him to handle their insurance claims.
Rather than forwarding insurance checks to lenders for endorsements and handling, he forged endorsements and diverted the checks into his business accounts and for personal use.   He refused to release claim funds to several victims who needed the money to rebuild their homes. In one case, he hired unlicensed contractors whose work led to a second fire in one of the victim's home.
Villa was convicted on two felony counts of embezzlement, grand theft, and two felony counts of forgery.
Euclid Market in Santa Ana
Federal agents raided Santa Ana Euclid Market on suspicion that the father-daughter owners are involved in food stamp fraud totaling over $2 million dollars. The owners are accused of giving customers cash in exchange for their Electronic Benefit Transfer benefits. They allegedly gave customers less than the EBT card was worth, while pocketing the rest.
Warrants were served on both the store and the home where the owners are believed to live.
The initial investigation involved an undercover buyer using an EBT card. The U.S. Department of Agriculture and the IRS are investigating the pair of owners.
White collar crimes are often some type of federal fraud crime. They are typically investigated and prosecuted by  federal authorities such as the FBI, SEC, DEA, or the investigatory arms of federal agencies. But state prosecutors may also prosecute white collar crimes under related state statutes. It is possible for both state and federal investigations or prosecutions to be going on simultaneously.
Although white collar crimes are usually financial and not violent, they are as serious as violent crimes and can carry penalties involving long prison terms and big fines or restitution if convicted. Investigations can take months or years before a warrant is issued or an arrest made. It is not unusual for suspects to be unaware that they are "of interest" to authorities while the white collar crime investigation is proceeding.
David A. Stein is skilled criminal defense attorney with a track record of obtaining very successful outcomes for his clients. If you have been accused of a crime or need help with any criminal matter, contact our law offices today at (949) 445-0040 for a consultation or contact us online by email here.