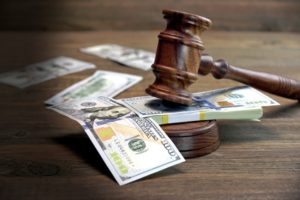 In a unanimous decision the justices of the United States Supreme Court have set some boundaries around the practice of "civil forfeiture" by state and local law enforcement.  While the ruling provides some guidance, it left the specifics to lower courts to decide.
Civil forfeiture is the practice by law enforcement agencies of taking and keeping the private property such as houses, cars, and cash, of suspected criminals. The suspect may or may not be charged with any wrongdoing but police confiscate property based on some degree of "evidence" of a crime having been committed.  In many cases the forfeited property may not be directly related to the crime. To have property returned, whether charged or not, the suspect must show that property was not used to commit a crime, or it was used without their knowledge.
The Supreme Court has previously ruled that the Eighth Amendment bars federal agencies from imposing "excessive fines" through the use of civil forfeiture, and this most recent ruling applies that standard to state and local agencies under the 14th Amendment.
Civil forfeiture is considered a kind of punishment for criminal activity.  But law enforcement agencies have historically relied on the proceeds from the sale of civil forfeiture property as a source of revenue for their departments, and are generally opposed to limiting forfeiture practices.
The decision of the court does not stop civil forfeiture, even for people not charged with a crime, but does set a "grossly disproportional" standard for and protection against "excessive fines" in the form of forfeitures.  And importantly, the decision allows suspects and those convicted to argue the forfeiture was excessive.
It is the case of Tyson Timbs on which the Supreme Court decision rested.  Timbs was arrested and plead guilty to selling heroin worth less than $400 to undercover police in Indiana.  He was sentenced to one year of house arrest, five years probation and a fine of $1,200.  State officials, however, seized his $42,000 Land Rover bought with proceeds from his father's life insurance policy.  The court did not rule specifically in the Timbs case that the seizure was "excessive," leaving it to the lower courts to decide, but Justice Ginsburg noted that the value of the seized property was four times the maximum possible fine of $10,000 for his drug conviction.
The ruling is bringing new scrutiny to the burgeoning practice of civil forfeiture, its role as a revenue source for local and state law enforcement, and its sometimes devastating financial effect on the lives of people who are merely suspected of a crime, related or not to the seized property. It is left to the lower courts to interpret the decision of the Supreme Court case by case, but the court has affirmed that people have the right to argue for the return of some or all of the seized property.   The unfortunate reality is people who wish to have property returned may lack the financial resources to pay for the legal process to get it back.
California has put restrictions on forfeitures and provides some protections. California law, SB443, requires a criminal conviction before property worth under $40,000 can be seized, and in order for cash over $40,000 to be forfeited the state must show clear and convincing evidence of criminal acts related to the property.
Under the federal forfeiture program called, equitable sharing, law enforcement agencies collaborating with federal agencies receive up to 80% of the proceeds from federal forfeitures.  In 2014 the Washington Post found that local and state officials working with federal agencies had collect $2.6 billion in forfeitures conducted without search warrants or indictments.
California SB443 further requires agencies to obtain a conviction before they can receive equitable sharing payments from property valued under $40,000.  Between 2000 and 2013, California agencies collected more than $800 million from federal equitable sharing funding, and collected $279.6 million from state law forfeitures during the same period.
David Stein is available to consult with you at no charge on any criminal matter. He is an experienced Orange County criminal attorney, working in all courts. Contact our law offices at (949) 445-0040 today. or email us online here.