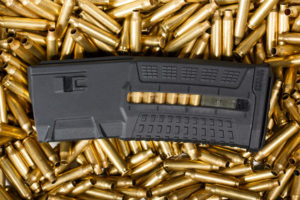 July 1, 2019 is upon us, and that is the date major portions of Proposition 63 that will affect every-day residents of California go into effect.
Proposition 63, also known as Background Checks for Ammunition Purchases and Large-Capacity Ammunition Magazine Ban Initiative, was approved by California voters in November 2016. The initiative, and related legislation, changed California law to:
Require sellers to conduct an "eligibility check" with the California Department of Justice on purchasers of ammunition.
Make stealing a gun valued at less than $950 a felony, punishable by up to three years in prison. Previously a gun valued at less than $950 was a misdemeanor.
Owning large-capacity magazines (over ten rounds) illegal and requiring owners to dispose of existing large-capacity magazines. Previously, it was legal to own magazines holding over ten rounds if purchased before the year 2000.
Require out-of-state or online purchases of ammunition be delivered first to a licensed dealer.
Require theft of ammunition to local law enforcement within five days of becoming aware of the theft.
Prohibiting a person convicted of stealing a firearm from possessing a firearm.
On July 1 2019, purchasers of ammunition at stores or gun shows will have to pass an "eligibility check" with the Department of Justice before buying ammunition. The cost is $1 for the standard eligibility check. The check matches the purchaser's name, date of birth, driver's license or government ID with the information the DOJ has on file from when the firearm was purchased and registered. If a purchaser has not registered a gun or the information provided at purchase does not match what is on file with the Automated Firearms System, they will need to apply for a "basic eligibility check" at a cost of $19, and a wait time of 10 days or more.
Proposition 63 does not limit the amount or the caliber of ammunition that can be purchased, but it does limit the amount an individual can sell in a 30-day period if they are not a licensed firearms dealer.
After the passage of Proposition 63 in November, unsurprisingly, lawsuits were filed. In the following years, A U.S. District Court judge struck down the ban on sales of high-capacity magazines, but has since agreed to stay the order while the California Attorney General files an appeal in the 9th Circuit Court. So in the interim, the judge banned further sales, manufacture, import, or purchase of high-capacity magazines until the Court of Appeals considers whether or not to uphold the ban in Proposition 63.
The judge ruled that people who bought magazines between the time he struck down the ban, and when he reinstated it temporarily may legally possess them until further court decisions are made.
If you are being investigated or have been arrested on gun or ammunition related charges, call my office. We practice only criminal law defense and I am a certified specialist in criminal law by The State Bar of California Board of Legal Specialization.
The attorneys at the Law Offices of David A. Stein are available for a no-cost consultation about any gun charge or criminal matter. With years in Orange County criminal defense, we have the experience and relationships with prosecutors to help you get the best possible outcome. Call us today at 949-445-0040 or email us confidentially online here.