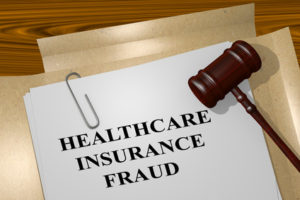 A nationwide action last week by the Department of Justice involved the arrests of more than 400 doctors, nurses, medical professionals and workers for fraudulent billings and other acts of fraud. Some caught up in the sweep are physicians and residents of Orange County.
Selling prescriptions for opioids, recruiting addicts for false tests and treatments; kickbacks for home health and diagnostic studies, and submitting fraudulent health services claims are just a few of the allegations in the fraud enforcement action, billed by the DOJ as the largest in history.
The alleged schemes span 20 states and total more than $1.3 billion in fraudulent billings to Medicare and private health companies. Out of the more than 400 people arrested across the country, at least 14 of those being charged in federal court live in Southern California, according to the U.S. Attorney's Office, Central District. According to the indictments the alleged fraudulent billings in California total more than $147 million.
Orange County Arrests
A Laguna Beach physician is accused of selling hundreds of prescriptions to addicts and drug dealers representing more than 1.2 million in narcotic pills and thousands of other controlled substances. He allegedly offered prescriptions for any drug they wanted charging up to $3,000 for a prescription.
Indictments against a Santa Ana physician and a Newport Beach resident describe a scheme in which the physician provided prescriptions for patients he never examined, and the Newport Beach resident paid the physician $200 for each prescription. The Newport Beach man is suspected of receiving approximately $1.2 million for referring these prescriptions to a local pharmacy, some of which were never given to patients. The pharmacy then billed a military health care program, TRICARE, nearly $5 million. The Laguna Beach physician is facing 34 counts of illegally prescribing controlled drugs and a count of making false statements on a DEA registration application.
Two Mission Viejo establishments, no longer in business, are accused of receiving financial kickbacks from a Palmdale pharmacy in Los Angeles County that submitted nearly 2800 claims to TRICARE, totaling approximately $63 million between 2014 and 2015.
One hundred fifteen, nurses and various licensed medical professionals were among those arrested nationwide, and one hundred twenty people are charged with illegally prescribing and distributing narcotics. The acting director of the F.B.I. said some doctors wrote more prescriptions for controlled substances alone in one month than entire hospitals did in the same time period.
In a related case in Florida the owner of a drug rehab center allegedly recruited addicts to help in his scheme to bill more than $50 million for false treatments and urine tests. He offered gift cards, plane tickets, trips to casinos and strip clubs and drugs for their cooperation. And in Maine an office manager was arrested for embezzling funds from a medical office.
The DOJ said the takedown was part of the effort to reduce the abuse of prescription medication, especially opioids. The investigations spanned more than 5 years. The enforcement action was lead by the DOJ Medicare Fraud Strike Force.
David A. Stein is a distinguished criminal defense attorney and trial lawyer.  He has an track record of successfully defending crime cases, often getting charges dismissed or winning acquittals after jury trial. Mr. Stein is available for a no-cost consultation on any criminal fraud charge or investigation you may be facing. Contact him at 949-445-0040 or email him confidentially online here.