Gang Crimes Defense Attorney
Under penal code 168.22, otherwise known as California's Street Gang Enhancement Law, there are two separate criminal offenses for gang cases. A person can be charged for actively participating in a gang, and also for committing crimes for the benefit of that gang. Depending on the circumstances of the crime committed, one could face other penalties that carry up to 25 years in prison, or even a life sentence.
Gang crimes are complicated and heavily prosecuted in California. Even if you do not take part in a gang crime, or are only loosely affiliated with a gang, you can still be convicted and charged with the same sentencing. If you have been accused of gang crimes, you need a criminal defense attorney on your side to make sure that your rights are protected and that you get a fair hearing in court.
Serving defendants in Orange County, CA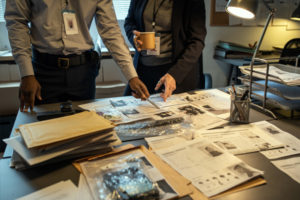 There are many times when a person commits a criminal offense that is unfairly prosecuted as a gang crime.
Police will often assume a person is associated with a gang simply because they wear a certain color, have committed vandalism with a group of friends, or because a family member is in a gang. They may also use FI (field interview) cards to establish gang membership. FI cards are deceptive because officers can document them retroactively, or falsely portray people as gang members.
Often, prosecutors will allege gang crimes in an attempt to prove the accused acted for the benefit of the gang. For example, although a  gang member may commit a robbery to support their family only, law enforcement may assume that the robbery was committed to benefit a gang. Another gang member might steal to support their drug habit. Crimes such as these should not be charged as gang offenses.
There are several ways that an experienced Orange County, CA criminal defense attorney can fight your gang crimes charge. They can:
Establish that the defendant was not a gang member.
Establish that the crime was not committed for the benefit of a gang.
Fight the underlying felony.
Challenge law enforcement's expertise in gang investigations.
We take your case seriously
David A. Stein is prepared to challenge any gang crimes charges. He understands that California laws are designed to punish gang crimes defendants harshly, and will advocate aggressively on your behalf. If you need a gang crimes criminal defense attorney in Orange County, call the Law Offices of David A. Stein for your free consultation today.