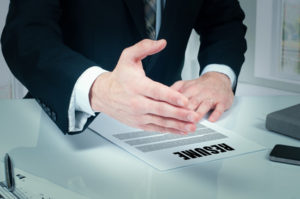 Tighter regulations are now on the books that limit employers' use of criminal background information for hiring decisions. The California Fair Employment and Housing Council proposed these new regulations last year. They took effect July 1, 2017, having made their way through the regulatory and public comment process.
Under the regulations employers using criminal history information in employment decisions must now show that the applicant's criminal history is both job related and consistent with a business necessity.
California law already prohibited employers from asking for information about convictions that have been sealed, expunged or dismissed; participation in probation-related work programs; or marijuana convictions more than two years old.
The new regulations require employers to show that its policies around using criminal history has a direct relationship to the successful performance on the job and in the workplace, and these policies are "appropriately tailored" to the job.
There is still latitude for employers to use background and criminal checks, so unless your record has been expunged your criminal history may still be used by an employer during a hire decision.
Employers have to show that disqualifying you because of a criminal conviction does not depend on your specific circumstances (but "across the board" a conviction is relevant); or that in doing an individual assessment of your circumstances your conviction does disqualify you.
While the aim is to assist those with a criminal history from what can often be an "automatic" disqualification, there may be some burden on the applicant in some circumstances to show "disparate impact," such as "substantial disparities" in the conviction records of members of protected groups (race, national origin, gender, and others), for example.
If you are disqualified because of your conviction record, employers must: 1) notify you that you have been screened out due to your conviction record, 2) give you the opportunity to show that your disqualification should not be applied to your specific circumstance or that the information is factually inaccurate.
Expungement Removes Your Criminal History Record
Even with new limitations on using criminal history for hiring decisions, you may be able to erase the record altogether and avoid employment complications. With a few exceptions most employers cannot ask you about an expunged conviction or use it as a factor in hiring or termination.
Expungement is the legal process by which evidence of a criminal arrest or conviction is essentially "erased" from your record. It legally wipes your slate clean. A standard background check will show "no record," or will show that the case was dismissed. And, once the offense has been expunged from your record it means you can legally say that you have not been convicted of a crime. An attorney experienced in navigating the Orange County expungement procedures can help you successfully clear your record.
If you qualify for an expungement, an arrest or conviction will not even be visible to private employers, landlords, financial companies, or educational institutions during background checks.
An expungement may also allow you to keep a professional license or obtain a visa, or avoid immigration deportation consequences of a conviction.
Being granted an expungement or "dismissal" first requires that you show you are eligible, and then follows a legal process of filing a petition with the court, notifying the district attorney, and participating in one or more court hearings. There are a few criminal offenses that cannot be expunged.
California Penal Codes section 1203.4 declares you are eligible for an expungment if:
You did not serve a sentence in state prison for the offense.
All terms of your probation have been successfully completed without violations, including the payment of fees or restitution.
You are not currently facing another criminal charge.
While the legal process takes time, with an experienced attorney you may not have to appear in court to be granted an expungement.
If you think you qualify for an expungement, talk to an attorney.
David A. Stein is available to consult with you at no charge about your expungement or on any criminal matter.  Mr. Stein will prepare a strong expungment petition, file it with the court, appear before the judge on your behalf, and argue against any evidence or opposition from the district attorney and Department of Probation. Contact our law offices at 949-445-0040 today or contact us via email online here.