For the readers on your nice list, that armchair criminologist you know, or to challenge your inner investigator during some holiday downtime, turn to one or two of the standout crime novels that came on scene this year.
Here's a shortlist of page-turners for you to investigate:
Murderabilia
By Craig Robertson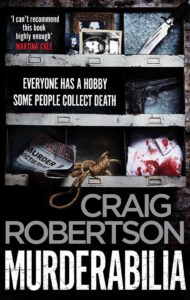 "In this place you'll find anything you want and everything you fear. Welcome to the dark web. Good luck trying to get out again. Good luck trying to stay alive."
A body is found suspended from a bridge in Glasgow. He is the son of a high profile politician. His clothes are left neatly folded beneath his body. The crime scene photos go viral.
Detective Narey, pregnant, has been confined to bed after collapsing at work. Closely inspecting photos of the murder scene, it is evident key pieces of clothing are missing. Soon they appear for sale on a dicey website. Armed with a laptop Narey begins a journey down into the dark web, buying murderabilia and caught up in a world where murder artifacts are high-value collectibles. But somebody has noticed and is watching her movements in this dark place. She and Tony, her crime scene photographer boyfriend, must solve the case before her fears of sharing the nightmare fate of Sharon Tate become reality.
The Force
By Don Winslow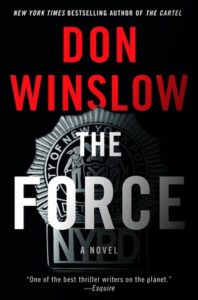 "The people, they don't know what it takes to keep them safe and it's better that they don't know.   They may think they want to know, they may say they want to know, but they don't."
Danny Malone is in charge of the "Da Force," the elite NYPD North Special Task Force charged with fighting drugs, guns, and gangs in the streets of upper Manhattan. Doing what it takes to protect the city means shakedowns, busts, stunts…and bad behavior. Only a few know Danny is dirty. All Danny ever wanted was to be a good cop.  But now he finds himself in federal lockup.
The night Malone and his crew make a heroine bust, kill a drug lord, pocket $4 million and smuggle just a few kilos may have proved street justice gone too far.
This one is on the best-of lists at the New York Times, NPR, Publisher's Weekly and the Financial Times.
The Thirst
By Joe Nesbo and Neil Smith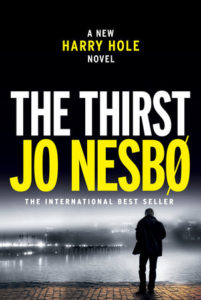 "Three years. Three years in a white nothingness, in a desert of empty days.
Now it was time. Time he drank from the well of life again.
Time he returned. "
Women are turning up murdered and Tinder appears to be the killer's hunting ground. Fragments of rust and paint are found in the victims' wounds baffling the police. Oslo is gripped in fear of a "vampirist." Retired detective Harry Hole, who put his family in deep risk with his crime-fighting craft, has left police life. He reluctantly rejoins the team, including an expert on vampirism who profiles the killer. Someone is leaking details of the crime to a journalist. Panic is spreading. Harry sets a trap for the killer but the killer is one step ahead. The suspense, unexpected turns, horror, and finale is one for the most ardent thriller follower.
Glass Houses
By Louise Penny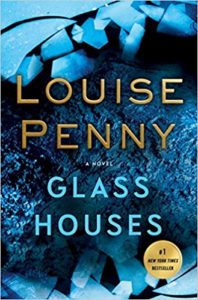 "Gamache knew his sense of unease had really begun the night before. When the black-robed creature first appeared at the annual Halloween party in the bistro.
Though alarms didn't go off until he'd looked out his bedroom window the next morning and seen him still there. Standing on the village green. Staring at the bistro.
Just staring."
When the figure disappears, the costumed body of town visitor Katie Evans is found in the cellar of the local church. Inspector Gamache knows she cannot be the hooded figure on the green. She has been seen in the village shops while the creature was standing eerily still on the green.
Gamache learns that the black-robed figure is not Death, but is a "Corbrado," a collector of debts, who follows a debtor to shame him into paying his debts. But this corbrado is a collector of moral debts. He is Conscience. Someone in town has committed a crime so hideous, Conscience has come to shame her or him. Might it be Katie, Gamache himself for a decision that haunts him, or the person sitting there in the defendant's chair?
Glass Houses is an instant New York Times bestseller and a LibraryRead's pick for 2017.
Two Kinds of Truth
By Michael Connelly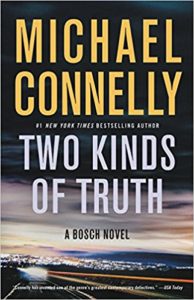 "'Borders didn't bring new evidence.' Kennedy said. 'It was already there.'
That hit Bosch like a punch. He knew Kennedy was talking about the physical evidence from the case. The implication was that there was evidence from the crime scene or elsewhere that cleared Borders of the crime. The greater implication was incompetence or, worse, malfeasance – that Bosch had missed the evidence or intentionally withheld it."
While Bosch is volunteering on cold cases for the San Fernando Police department, an old case from Bosch's LAPD days has come back to haunt him. Preston Borders has spent 30 years on death row for the rape and murder of three young women. DNA evidence has turned up from 1998 on one of the victim's clothing and it doesn't belong to Preston Borders.  Borders is accusing Bosch of framing him. Bosch has just nine days to find a way to keep Borders on schedule for his execution. But a double homicide in a San Fernando pharmacy points to a larger "pill mill" and Bosch is compelled to go undercover as an addict and drug mule. Harry Bosch may have bitten off more than he can chew.
The book is an NPR Best Book of 2017, an Amazon Book of the Month, and Times Critics' Top Book of 2017.
David A. Stein is skilled criminal defense attorney with a track record of obtaining very successful outcomes for his clients. If you have been accused of a crime or need help with any criminal matter, contact our law offices today at (949) 445-0040 for a consultation.