The twists and turns in this Orange County criminal investigation make it worthy of a Law and Order episode. Prosecutors and police say they were duped by a serial con artist in a sophisticated plot to frame her husband's ex-fiancée.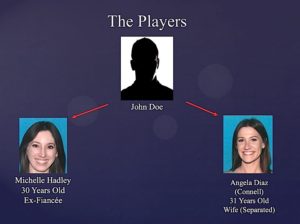 Here's the bizarre, and still-unfolding, story:
On June 24, 2016 police received a 911 a call from an Anaheim woman saying that a man had attacked her in her garage and tried to rape her. When police arrived the alleged victim, the wife of a U.S. Marshall, had red marks on her neck and chest, torn clothing and a terrified account of the attack.
The woman, Angela Diaz, had filed multiple reports with the Anaheim police in the weeks leading up to the attack, complaining that she was receiving threatening emails from her husband's ex-fiancée, Michelle Hadley. Diaz provided police with copies of emails containing threats and graphic images, and forwarded copies of "rape fantasy" ads. They all showed the emails coming from Hadley's email addresses. Diaz requested and received a restraining order against Hadley.
During that same time period, Diaz reported to police that men were showing up at her door responding to various Craigslist ads for "rape fantasy" encounters. She reported that she was also receiving emails from men who intended to respond to the ads.
Diaz accused Hadley of posing as Diaz on Craigslist, posting the ads and giving the men Diaz's address.
Police contacted some of the men who responded to the Craigslist ads. The men admitted to responding to the ads, believing they were being invited to engage in a consensual sexual encounter with Diaz.
Michelle Hadley was arrested after Diaz's 911 call on multiple felony counts. Hadley claimed she was innocent and had never sent emails to Diaz or posted ads on Craigslist as Diaz.
Diaz was informed of the arrest and Hadley's release. She told police the threats had stopped while Hadley was in custody.
Later in the day of Hadley's release, and in the following weeks, Diaz reported that the threatening emails from Hadley's email address started up again and continued until July 13 when Diaz contacted police about a man outside her condo. Police arrived to find a 17-year old man who told police he was there in response to a Craigslist ad and had the address to Diaz's condo.
Michelle Hadley was again arrested and further charged with stalking, six counts of rape, violation of the restraining order, and with several criminal enhancements. Bail for Hadley was set at $1 million. Conviction on these charges would carry a maximum sentence of life in prison for Hadley.
Prosecutors say all the evidence they had at the time pointed to Hadley.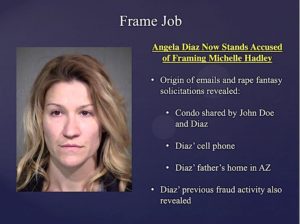 As the investigation began to unfold, investigators suspected that Diaz had gone to great lengths to fabricate the physical and digital evidence against Hadley.
Investigators found evidence that Diaz staged the garage crime scene and the torn clothing and that the scratches on her body were self-inflicted.
Digging into the digital trail, investigators believe the emails and rape fantasy ads originated from Diaz's condo, her cell phone, and her father's home in Arizona. Diaz had allegedly used software to make it appear as if the emails to her came from Hadley's email accounts.
Investigators say they have uncovered evidence that Diaz has allegedly committed several other acts of fraud.
Diaz, the alleged crime victim, is now charged as a suspect in:
Two counts of kidnapping
Two counts of false imprisonment
Perjury
Two counts of forgery
Two counts of possession of forged instrument
Grand theft
22 misdemeanor counts of filing a false police report.
Michelle Hadley was exonerated on all charges on January 9th. Angela Diaz's case is currently pending trial in Orange County.
This case demonstrates that thorough investigation can surface vital evidence that may not be obvious initially. Not all criminal cases warrant one, but in complex criminal cases a criminal defense investigator can be critical in gathering all the evidence, finding witnesses, and identifying information that may help establish reasonable doubt.
While police and prosecutors perform their investigation of a crime, a criminal defense investigator engages in a completely independent investigation.
A defense investigator validates, verifies and re-investigates the evidence law enforcement has. They look for potential mistakes or omissions in the prosecution's investigation. A defense investigator makes sure that proper procedures were used during police investigations. They interview witnesses and review the evidence the prosecution has including documents, physical evidence, videos, digital media, and statements.
The Law Office of David A. Stein is available to consult with you at no charge on any criminal matter. Contact our law offices at 949-445-0040 today.
David A. Stein is skilled criminal defense attorney with a track record of obtaining very successful outcomes for his clients. If you have been accused of a crime or need help with any criminal matter, contact our law offices today at (949) 445-0040 for a consultation.  Mr. Stein brings expert criminal defense investigators into pertinent cases to ensure a complete and thorough defense.