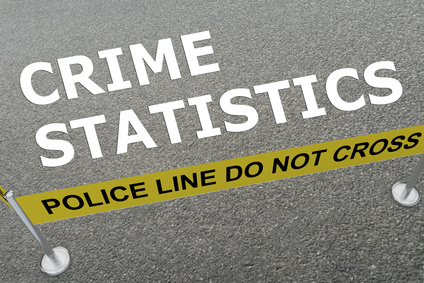 Crime rates for 2018 are in from the California Department of Justice. The report shows violent crime cases, property crime, and juvenile crime fell in almost all regions across California. This continues the general downward trend in crimes per capita in California. While there was a bump upward in violent crime between 2014 – 2016, the overall crime rate has been steadily decreasing since 1993.
The violent crime rate decreased 1.5% between 2018 and 2017. The property crime rate decreased 5.1% over that same period. Burglary has decreased more than 30% since 2013.
In Orange County homicides dropped from 62 in 2017 to 49 in 2018; robbery dropped from 2,495 cases to 2,203; aggravated assault went from 4,240 to 4,133 caes; burglary from 10,196 to 9,485 cases, and arson from 328 to 300. Rapes cases increased from 830 to 977 in 2018.
Rape crime is the major exception to the downward crime trend. The rate of rape cases has increased dramatically since 2013. The jump is partly due to the broadened definition of rape in 2014, expanding the definition to include males. The rate increase is also attributed to victims being more likely to report an attack today than they were five years ago.
The trends in overall crime rates seem to negate the argument that crime rates would increase after California initiated criminal justice reforms in recent years, most notably Proposition 47. The "realignment" program reduced penalties for non-violent crimes followed on by Proposition 47 that reclassified possession of many controlled substances to misdemeanors and decriminalized others.
The statistics also seem to refute the claim that the release of prisoners ordered by the Supreme Court in 2011 to reduce overcrowding would see an increase in crimes by repeat offenders. An analysis looking at rates of recidivism released last month by the Public Policy Institute demonstrate that the rates among felony offenders has declined across all four sentencing categories studied (prison, jail only, jail plus probation, probation only), with the repeat offender rates falling significantly for drug offenses. All is not rosy in spite of the reported recidivism decreases. Recidivism rates are still high, particularly among those who serve terms in prison.
To check on other county's specific crime numbers, see the Sacramento Bee's online tool for each county in California. https://www.sacbee.com/news/local/crime/article232342597.html
David A. Stein is available to consult with you at no charge on any criminal matter. With years in Orange County criminal defense, we have the experience and relationships with prosecutors to help you get the best possible outcome. Contact our law offices at (949) 445-0040 today or contact us confidentially online here.